Sunstone Energy designed and installed a NIBE 1330-40kW (3Phase) Ground Source Heat Pump for a large country house in Wiltshire to replace an LPG heating system. The property's size and location was a major consideration in designing the most appropriate renewable energy system. With a floor area of 950m2 and a high heat demand, this property's riverside location where the water table is only 1.5m below ground level, made it more cost effective and efficient to use an open loop system than digging deep boreholes or installing a lengthy ground collector.
Huge Savings
A comparison with the previous system is that with LPG running costs were £11,430 per annum, compare that with the new Ground Source Heat Pump installation and the running costs are considerably lower at £3,967.00 per annum. The client received a Renewable Heat Premium Payment of £1250 towards the installation and will be eligible for the Renewable Heat Incentive (RHI) when it is introduced in the future.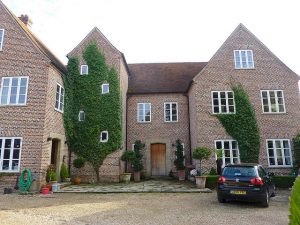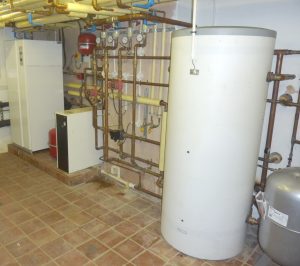 How Does it Work?
The ground water is drawn from a 30m borehole, (at this depth there is a constant water temperature of 8-10 degrees), and then passed through a secondary heat exchanger, prior to transferring it to the heat pump. The Ground Source Heat Pump upgrades the ground water temperature further to run the property's heating system; in this case a mixed system of under floor heating and radiators spanning 3 floors, together with a 1000 litre hot water tank.
In the final stage of the process the water is returned to the ground via a secondary borehole.
This is a very efficient way of extracting heat from the ground, achieving in this case a C.O.P. (Co-Efficient of Performance) of 4.1.
Solar PV Installation
The majority of the electricity to run the Ground Source Heat Pump is generated via a 9.6kWp Solar PV installation on the roof of a nearby barn.
48 x Kioto multi-crystalline PV modules 200W(p) – 9.6kW(p)
Inverter: Mastervolt
Orientation: due south -25 degrees
Yield: 8,640kWh/p.a
CO2 Saving: 4,674kg
FiT payments: Based on tariff for systems between 4-10kWp (37.8p/kWh plus 3.1p for 50% exported=40.9p/kWh)
Total income p.a: £4,484.00 (allowing for electricity saving on site)
Pay back period: 7.4 years.
Please note, these calculations are based on our independent Energy Calculator and not EPC figures. RHI and FIT payments are based on EPC figures.