Somerset property owner recognises the importance of quality solar photovoltaic system in maximising ROI.
The owners of Somerton Court Country House in Somerset made the decision to install a solar photovoltaic array on a barn some distance from the country house to capitalise on the generous feed in tariffs available. They contacted Sunstone Energy and insisted on quality, realising that the feed in tariff is a 25 year investment and longevity of the system with high yields for maximum return was top priority.  We presented a package based on Kioto KPV PE Q cells modules. The module itself uses high quality German cells, proven to work better in low light conditions.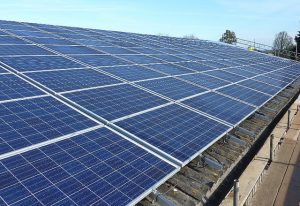 Sunstone Energy worked with the customer to maximise the potential return on investment by liaising with the network operator and agreeing that the power generated could be taken from the barn to the 4 star country house accommodation where a far higher proportion could be used. This means a higher return because less electricity will have to be purchased.
Director of Sunstone Energy, Graham Haine, commented, 'This is a particularly satisfying project because with a bit of lateral thinking we have been able to design a solar PV solution that is going to deliver an even better return on investment than we originally anticipated. The UK now has the most generous feed in tariffs in Europe and the investment potential here in the south west is very exciting with solar photovoltaic projects becoming an important part of our micro-renewable energy work along with other technologies like heat pumps and solar thermal.'