Complete Renewable Heating and Hot Water Retro-fit Solution
This retro-fit installation consists of a 15kW wood pellet boiler from Austrian manufacturer ETA and 3 solar thermal panels.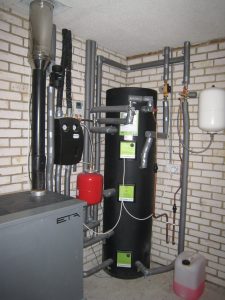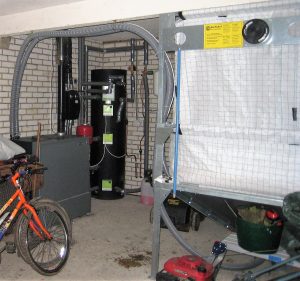 The image, above left, shows the solar thermal hot water cylinder and, above right, the sack pellet silo located across from the boiler in the garage.
During the winter the solar thermal doesn't contribute that much so the pellet boiler delivers the heating and hot water but the solar thermal comes into its own during the warmer half of the year and delivers the majority of the hot water. This saves the boiler coming on when there is only a hot water demand and no heating requirement.
The estimated annual heating and hot water generation form the pellet boiler is 22,467 kWh and from the solar thermal, 1358 kWh. The customer is receiving Renewable Heat Incentive (RHI) payments for both the heat produced from the boiler and the solar thermal panels.