Ground Source Heat Pump using Lake Collector
Langford Lakes, a nature reserve owned by Wiltshire Wildlife Trust, sought advice from Sunstone Energy in order to find a system which would provide heating & hot water to their existing Lakeside Visitor Centre, working alongside the pre-installed Solar PV system.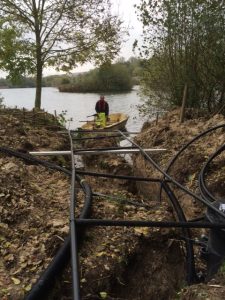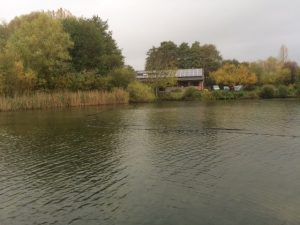 The Solution
The solution proposed was a 3 Phase 15kW NIBE F1145 Ground Source Heat Pump, using a lake collector. This method is very efficient due to the increased thermal conductivity & constant all year round temperatures of approximately 10 degrees at base of the lake, resulting in an installation that is efficient in terms of energy & cost. Furthermore, by utilising this natural heat source it worked well within a site dedicated to environmental & wildlife conservation.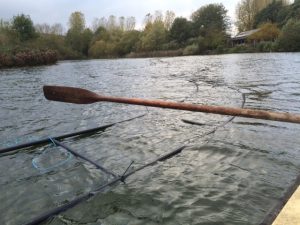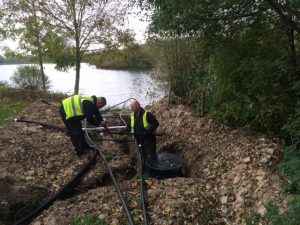 Anticipated Running Cost Saving
Net Energy required including hot water demand – 35,226 kWh/year
Energy Delivered by GSHP – 35,226 kWh/year
Energy Supplied to GSHP – 11,120 kWh /year
Supplementary energy – 0 kWh/year
Annual Fuel cost 11,120 kWh x 13.5p per kW = £1,501.00 per annum
Equivalent cost currently using Oil boilers – £2,776.00 per annum (7.88p per kWh x 35,226 kWh)
Total energy saving using GSHP      £1,275.00per annum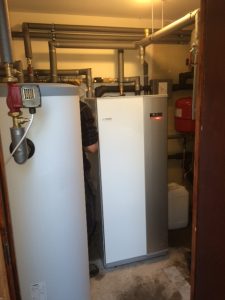 Renewable Heat Incentive
As this is a commercial project the Ground Source Heat Pump is eligible for the Non- Domestic Renewable Heat Incentive (RHI) which provides quarterly, index- linked payments for 20 years to pay back the initial capital cost & thereafter supplement the running costs.
Pay Back Period Estimate
RHI incentive payment commercial
35,226 kWh x 0.087 = £3,065.00 per annum (index Linked)
Total RHI payment over 20 years – £61,300.00
Total Financial Gain Per Annum – £4,340.00per annum
Cost of Installation: £28,629.62 + vat. Includes 15kW GSHP and radiator system installation.
Payback period – 6.89 years