Sunstone Energy designed and installed a renewable heating system for this Grade 2 Listed 18th Century cottage in Wiltshire, using an Air Source Heat Pump. Although the cottage dates back to the late 18th Century, its construction of thick cobb walls and thatched roof lend itself to good insulation values , together with the modern extension this made an Air Source Heat Pump a very economical solution.
Air Source Heat Pumps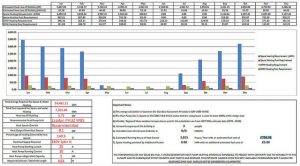 Air Source Heat Pumps extract heat from the ambient outside air. In contrast to simpler types of air-to-air heat pumps, they are connected to the building's heating system and are able to produce both heat and hot water. As heat pumps are energy efficient and work on the principle of low temperature heating (35-55 degrees Celsius as opposed to 70-80 degrees Celsius for traditional boilers) they maintain the desired room temperature 24 hours a day. Controlled by the outdoor temperature the heat pump knows when and how much heat is required; the effect is a much more comfortable indoor climate, healthier for the occupants and much better for the fabric of the building.
Installation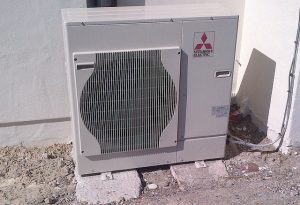 Mitsubishi Ecodan 8.5kW Air Source Heat Pump with 180L Kingspan water cylinder, removal of existing floor and installation of underfloor heating.
Ecodan was selected due to its quiet running, which conformed to planning regulations.
A 180L Kingspan Cylinder, a pre-plumbed packaged unit, was recommended due to space restrictions within the property.
Incentive
The owners were eligible for £850 as part of the Renewable Heat Payment Premium Scheme, with the future prospect of a longer term income on their generation when the Renewable Heat Incentive (RHIs) are introduced.