For many properties, particularly those off the gas grid in rural locations, renewable technologies such as heat pumps are the only energy efficient heating system available. Other homeowners, faced with growing monthly utility bills, are incorporating renewable heating simply to future proof their property from the unpredictability of global fossil fuel supply.
One such example is Alf Pink, who designed and built a 6,300ft2, five-bedroom detached property in Southampton, complete with modern luxuries such as a snooker room, music room and gym. And just five months after installing a state-of-the-art Dimplex A-Class air source heat pump, the cost saving benefits are already clear to see.
The A-Class Air Source Heat Pump Solution
With underfloor heating over three floors, plus four en-suite bathrooms, a downstairs bathroom and an extensive kitchen and utility space which all require hot water, the property had a significant heating and hot water demand.
Whilst gas supply was available for Mr Pink's new home, he took the decision to install a high efficiency Dimplex A-Class air source heat pump, future proofing his home whilst reducing CO2 emissions and keeping heating bills to a minimum.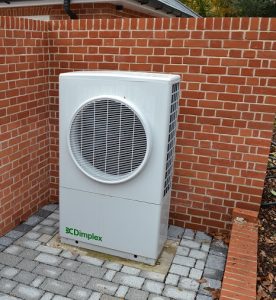 Mr Pink explains: "Although gas central heating was an option, I wanted to integrate renewable technology into the construction of the house right from the off."
"The Dimplex A-Class air source heat pump combined with a low temperature system of underfloor heating has enabled me to benefit from lower monthly utility bills and safeguards my annual heating bills if fossil fuel prices continue to rise."
"In addition to this, having the technology installed by an MCS (Microgeneration Certification Scheme) accredited installer like Sunstone Energy means we are eligible for the Government's Renewable Heat Incentive scheme, which will provide tax-free quarterly payments on the renewable energy we produce for the next seven years."
Finding the Appropriate Solution
In conjunction with Dimplex Renewables, Graham Haine from Sunstone Energy, designed a highly efficient heating system for the property, comprising of a 16kW Dimplex A-Class air source heat pump, 500L capacity domestic hot water cylinder and 100L buffer tank.
Allowing for the calculated heat loss of 11.5kW from the home, the system feeds over 6,000ft2 of underfloor heating with a water flow temperature of 45°C, together with hot water supply throughout the house.
And within just five months of installing the heating system, the cost savings of choosing A-Class were already beginning to show.
From October 2013 to February 2014, the system delivered a Seasonal Performance Factor (SPF) of 3.4 at a flow temperature of 45°C – compared to the assumed SPF of 3.0 for an air source heat pump under the same conditions in the same location according to the Heat Emitter Guide.
This system performance, outperforming the heat emitter guide by more than 13 per cent, representing a saving of almost 1,000 kWh of electrical consumption in less than half a year – and means a potential annual saving of almost £275.
The system will cost around £2,000 per year to provide heating and hot water for the vast five-bedroom property, generating additional income through the RHI scheme for the next seven years.
Heating Zone Management
For Mr Pink, a homeowner who likes to live "very warm indoors", it was crucial that the system must be capable of providing high ambient temperatures to meet the desired comfort levels.
Automatically using the lowest possible amount of energy required to deliver target temperatures, Mr Pink's system is intelligent enough to recognise that less heat is required to heat the upper floor of the house, ensuring even warmth and maximum comfort with no energy wastage.
With a pump installed on each underfloor heating manifold, the A-Class can provide specific temperatures to each area, rather than having one blanket temperature across that entire floor of the house. For this particular house, it was decided that three heating zones would provide maximum comfort for the family, but the A-Class controller can manage up to four different heating zones at once.
Furthermore, the system was installed with a mechanical heat recovery system which re-uses the generated heat through a ventilation system, saving up to 2kW of energy per year.
Mr Pink adds: "The A-Class controller offered the ideal solution to run a complete home heating system and it enables me to control room and water temperatures, as well as timings, from one unit. It's just one of the many benefits of this system and I am confident I made the right choice."
"By integrating this market leading air source heat pump system into the design of our property, we have future-proofed it for many years to come."
"Now we can enjoy comfortable temperatures in our dream home, safe in the knowledge that rising fuel prices will not have such an impact on our bills, we have additional income from the RHI and we are even doing our bit to help reduce national carbon emissions."
Key facts:
16kW Dimplex A-Class air source heat pump, 500L capacity domestic hot water cylinder and 100L buffer tank providing space and hot water heating for five bedroom, 6,300ft2 property
System has delivered an SPF of 3.4 at a flow temperature of 45°C feeding underfloor heating
Heat Emitter Guide assumed SPF in the same conditions is 3.0 – which means a £275 annual saving by choosing Dimplex A-Class over 'standard' air source heat pump
The A-Class air source heat pump, underfloor heating and MVHR were installed by Sunstone Energy; 01202 522488